How Many Miles Do Tires Last?
---

---
One of the most repeated questions we get from customers is, "How many miles should tires last?" When you get new tires installed on your car, as long as they are from your trusted original equipment manufacturer and of superior quality, then you can expect your tires to last about 50,000 miles. Interested in learning more about the lifespan of your vehicle's tires, and what factors can lead to a longer or shorter life expectancy? Let the experts here at Jack Powell Chrysler Dodge Jeep Ram tell you all about tires!
What Factors Affect Tires Life Expectancy?
There truly is a difference you may find in our answer for the questions, "How many miles do tires last," and, "How many miles should tires last?" This is because, as you drive, there are a handful of factors that can affect the lifespan of your tires:
Driving habits: To have tires that last a longer period of time, it's best to not accelerate and brake your vehicle with a lead foot and instead gradually accelerate and brake.
Treadwear rating: Every tire should come with a treadwear rating which rates the life expectancy of the tire's treads.
Type of tire: If you have all-season tires, you can expect them to last longer than some high-performance tires due to them having less rolling resistance.
Road conditions: Depending on if you drive off-road a lot, or are stuck driving on gravel or dirt roads regularly rather than smooth, paved roads, your tires will see more wear-and-tear. Also, if you drive in snow, rain, or icy conditions, then this can negatively impact your tire's wear, especially with salt in snowy conditions.
Drivetrain: Depending on if your vehicle has rear-wheel drive, front-wheel drive, or all-wheel drive, your tires will all wear differently due to where the main power is being sent to.
Terrain: For drivers who live in areas with more inclines and declines in the road, there is more friction on your tires to start and stop than on flat streets.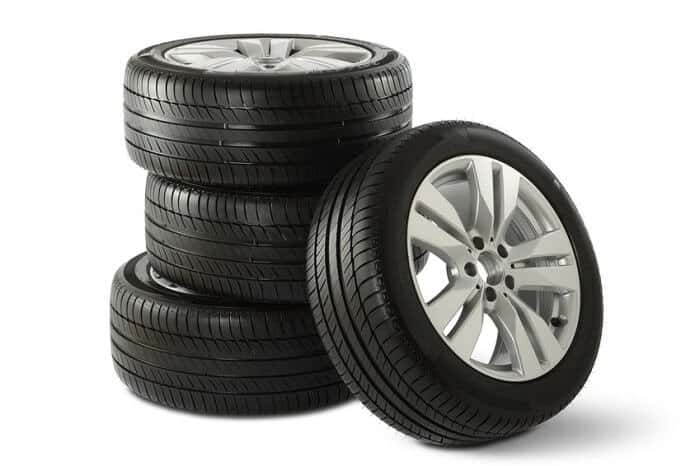 Tire Care Tips For Long-Lasting Tires
If you want to extend the life of your tires in San Marcos, then there are a number of tips we can give you:
Take your vehicle in for regularly scheduled maintenance and have your tires professionally inspected.
Inspect for proper air pressure on a regular basis. You can do this at a gas station when you fill up your gas tank, or do it at home with an air pressure gauge.
Rotate your tires on a consistent basis so your tires get even distribution of tire wear.
Regularly inspect tire tread depth for tire tread wear.
Service Your Vehicle at Jack Powell Chrysler Dodge Jeep Ram!
If you think your tires need to be replaced or if you just need a simple tire rotation, then you can bring your vehicle in to our service center in Escondido, San Diego! We are centrally located just a short drive from Vista and Oceanside, so contact us and schedule a service appointment today! Our helpful and knowledgeable service staff will get your car taken care of in a timely manner! For more, learn what happens if you don't change your vehicle's oil, and discover what serpentine belts and timing belts do for your vehicle.
Learn More at Jack Powell Chrysler Dodge Jeep Ram
At Jack Powell Chrysler Dodge Jeep Ram, we are fortunate to have our fair share of good weather. San Diego, CA is a city with plenty of sunshine and mild temperatures. Though, it can get very hot as we make our way into spring and summer. While it may not come immediately to mind, warmer temperatures can affect your vehicle…