EV Chargers Available at Jack Powell Chrysler Dodge Jeep Ram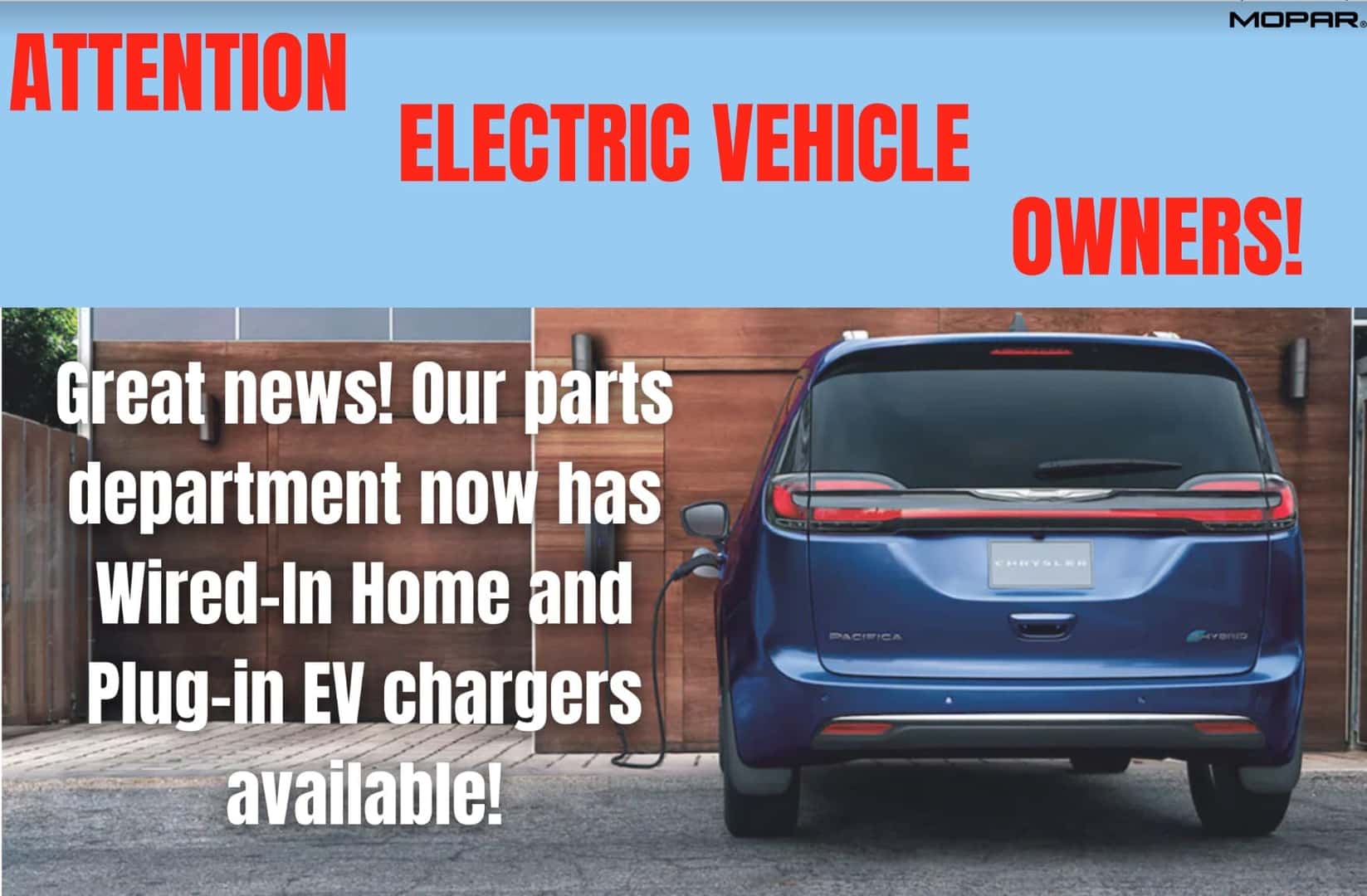 Upgrade to an available Jeep or Chrysler Brand home
charging station and charge your vehicle faster than ever!
UP TO SIX TIMES FASTER CHARGING: Fully charge in just over two hours. The PHEV charging unit charges up to six times faster than the corset that came with your vehicle. The HSC-40 puts out 32 Amps, 7.7 kW maximum (adjustable) of power, perfect for all plug-in vehicles.
WI-FI CONNECTIVITY: Allows you to monitor and control charging anytime, anywhere via a mobile app and web portal to save time and money
PORTABLE AND EASY-TO-USE: Small, lightweight enclosure; lockable, quick-release mount; weatherproof for indoor/outdoor charging.
RELIABLE: Backed by a 3-year warranty 1and outstanding customer service.
SMART GRID OPTIMIZATION: Allows you to reduce energy costs by charging at low-rate times and potentially participate in available programs to further lower the cost of owning and driving your EV.
ENERGY STAR® CERTIFIED: This plug-in version has a quick-release mount, so it is portable and can be used elsewhere if needed.
Electric Car Charging FAQs
Electric cars are still relatively new to the market and the Escondido, San Diego area, and we field a lot of questions at Jack Powell Chrysler Dodge Jeep Ram about charging electric cars. Check out these FAQs to answer your questions about where to charge an electric car and more, and feel free to contact us with any questions.
How Do You Charge an electric car?
Electric cars come with a power outlet on the front fender, and the other end of the plug will either be inserted into one of your home's normal three-prong outlets (Level 1 Charging) or in a Level 2 Charger (208V-240V) that's professionally installed in your home. You can also charge your car at a public station, which is typically Level 3 charging.
How Long Does It Take to Charge an Electric Car?
Another question we hear a lot at Jack Powell Chrysler Dodge Jeep Ram is, "How long does it take to charge an electric car?" The answer to that question is that it depends on the type of charging station you use. With a Level 1 home charging station, which uses your home's wall outlets, charging takes around 24 hours. Level 2 Chargers, which must be installed by a professional and use a plug like your washer and dryer, can get the job done overnight, while charging your car from 10% to 80% in an hour or two. Level 3 Chargers are public charging stations and can give your EV an 80% charge in 15-30 minutes and a full charge in about an hour.
How Much Does It Cost to Charge an Electric Car?
Charging cost is a major selling point for many Carlsbad and Vista drivers interested in electric cars. Electric car charging costs for Level 2 home chargers range from $10 to $14. Getting the same charge at a public charging station will cost more as they can charge by the minute, with charging costs for a charge from 10% to 80% costing between $20 and $25.
Where Can You Charge Your Electric Car?
As electric cars have become more popular, public charging stations have increased all over the country, enabling people to charge EVs while shopping and dining at popular locations. Home charging stations also enable people to charge their EVs from the convenience of home.
Deciphering the Maze of Home EV Chargers
As an electric vehicle (EV) owner or prospective owner in Carlsbad, you've likely pondered this crucial question: Are all electric car chargers the same? While EVs have become the talk of the town, understanding the technicalities of EV chargers can be overwhelming. The good news? You don't have to scramble to find a specific charger for your EV. Let's delve into the world of home EV chargers to unravel their nuances.
Unfolding the Universality of EV Chargers
Many EV owners breathe a sigh of relief when they learn that EV chargers are essentially universal. Level 1 and Level 2 chargers, the two most popular types, come with a standard plug compatible with all EVs. However, Tesla's proprietary Supercharger, a variant of the Level 3 charger, is an exception to this universality. As you embark on your EV journey in Vista, you can rely on these standard chargers, saving you from the hassle of hunting for brand-specific chargers.
Navigating Through the Different Types of EV Chargers
EV chargers are broadly classified into three levels: Level 1, Level 2, and Level 3. Each level differs in charging speed and power requirements, making them ideal for different scenarios.
Level 1 Charging
The most basic of all, the Level 1 charger, offers a charging speed of 3 to 5 miles per hour, making it perfect for plug-in hybrid vehicles with smaller batteries. Its usability extends to EV owners in San Marcos who seldom venture far from home. These chargers can easily be plugged into a standard 120-volt household outlet.
Level 2 Charging
Level 2 chargers provide a significant boost, adding 12 to 80 miles to your EV per hour of charging. If your daily routine includes commuting, running errands, or long-distance travel, a Level 2 charger can be your best ally. These chargers can be installed at homes, workplaces, and public places, and they cost between $200 and $1,600, depending on various factors​​.
Level 3 Charging
Lastly, Level 3 chargers, often referred to as fast or superchargers, offer the quickest charging speeds, capable of adding 3 to 20 miles per minute. These high-voltage chargers generally aren't suitable for home installations due to the substantial power they require.
Get Your Electric Car Charger at Jack Powell Chrysler Dodge Jeep Ram!
How long does it take to charge an electric car? Now you can answer that question and others with confidence. And more great news, San Marcos-area customers! We have electric car chargers for sale in our parts department, and they're compatible with all EVs on the market, even Teslas! Also, if you're in the market for an electric car, our new electric vehicle inventory is sure to have something that piques your interest! And as a CarFax Top-Rated Dealer, you can trust that we have an expansive used car inventory with top models in great condition that fit nearly any Escondido, San Diego budget.
Now that you've navigated the world of EV chargers, you might be wondering which one is right for you. At Jack Powell Chrysler Dodge Jeep Ram, we're here to assist you in making that decision. If you're looking for the perfect EV to match your lifestyle or need guidance on selecting the right EV charger, feel free to reach out to us. With our excellent customer service and a range of exciting vehicle specials, we aim to make your EV journey smooth and enjoyable. Let's drive into the future, together.