Si usted está buscando servicio de auto profesional cerca de San Diego, entonces usted puede confiar en los técnicos entrenados y certificados en el centro de servicio de Jack Powell CDJR en Escondido, San Diego. Tenemos un inventario completo de piezas genuinas, una instalación con el diagnóstico avanzado y equipos de reparación, y una comprensión completa del horario de mantenimiento de vehículos de Chrysler, Dodge, Jeep, y Ram. Visítenos hoy cerca de Carlsbad después de programar el servicio de auto en línea.
Servicios comunes de auto
En Jack Powell CDJR, nuestros técnicos certificados tienen la experiencia para cumplir una amplia gama de servicios de reparación y mantenimiento, incluyendo servicios comunes como:
Cambio de neumáticos
Rotación de neumáticos
Cambio de aceite
Alineación de rueda
Reemplazo de filtro
Cambio de fluido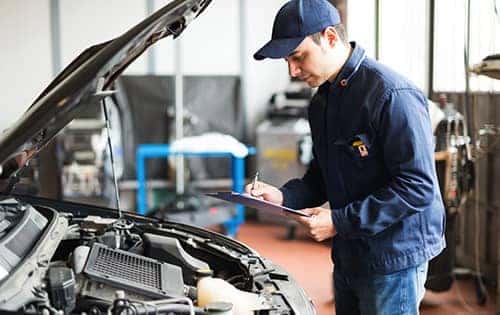 Nuestro carril expreso
En nuestro carril expreso, hacemos más que cambiar el aceite. Además de un cambio de aceite asequible para el aceite de motor sintético y convencional, usted también obtendrá otros servicios básicos de mantenimiento, como:
Cambio de filtro
Comprobación de neumáticos
Comprobación de lubricante
Rotación de neumáticos
Inspección multipunto
Comprobación de fluidos
Comprobación de la batería
Departamento comprensivo de las piezas genuinas de OEM
Cada pieza en su vehículo de Chrysler, Dodge, Jeep, y Ram se ha diseñado a especificaciones exactas. Por eso, es tan importante seguir con piezas genuinas de Mopar en vez de imitadores. En Jack Powell CDJR, tenemos un inventario completo de piezas de Mopar en todo momento. ¿Tiene preguntas? Llame a nuestro departamento de piezas en (760) 871-4232.
Póngase en contacto con Jack Powell CDJR para mantenimiento experto y reparaciones de auto
Si usted está buscando un centro de servicio y piezas en que usted puede confiar para el mantenimiento y reparaciones de su Chrysler, Dodge, Jeep, o Ram cerca de San Marcos, Jack Powell CDJR está aquí para usted. Explore nuestra lista actual de cupones de cambio de aceite y otras ofertas de servicio de tiempo limitado, y luego visítenos en 1625 Auto Mall Parkway en Escondido, CA. ¿Tiene una pregunta para nosotros? Póngase en contacto con nuestro centro de servicio durante nuestro horario de servicio regular:
Lunes – viernes, 7:30am – 6pm
Sábado, 7am – 5pm
Please provide content here, broken down into H1s, H2s, and Ps according to the Look Book design chosen by the AM. Be sure to include internal links in the text.