How to Remove the Smoke Smell in a Car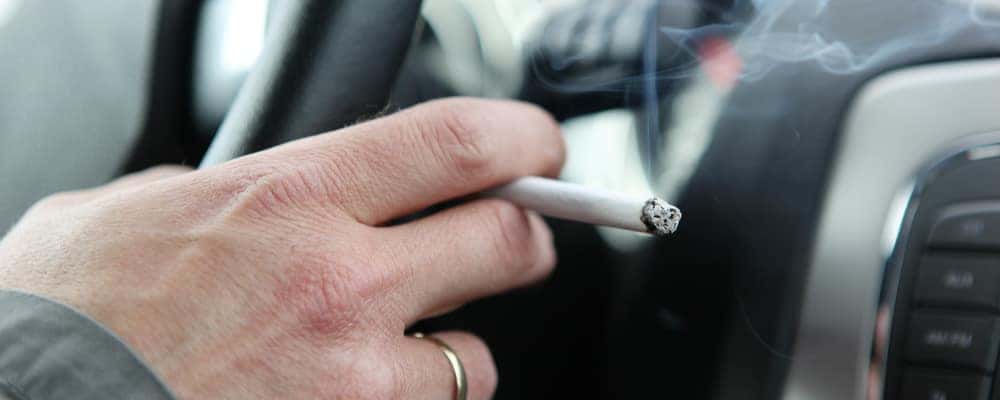 ---
---
If you or someone you know used to smoke in your car, the smell can linger and make an otherwise comfortable Escondido, San Diego or San Diego commute unpleasant. However, you don't need to spend a lot of money on a detailing service to get that smell out of your vehicle. With the help of Jack Powell Chrysler Dodge Jeep Ram, you can get the smokey smell out of your easily! Have a specific question?
Contact us
and our friendly staff will help you!
How to Get Smoke Smell Out of Carpet And Upholstery
When you go to remove smoke smell from your car, it's important to know that carpet and upholstery requires different care than leather. To remove the smell of smoke from your carpet and upholstery, you'll need baking soda and a vacuum. Gather these items and then follow the steps below:
Vacuum the carpet and upholstery as thoroughly as possible. Make sure you clean under and in-between the seats as well. This will get rid of any debris and old cigarette ash.
Sprinkle the baking soda all over the upholstery and the carpet, then let it sit for about 20 minutes. Baking soda is an odor neutralizer and will capture the smokey scent.
After letting the baking soda sit, vacuum it up! If the smokey smell persists, sprinkle more baking soda where it smells the strongest and repeat the process. You can also choose to leave an open box of baking soda in your vehicle overnight to help absorb the smell.
How to Remove Smoke Smell From Leather and Trim
Leather requires special care when cleaning or removing odors, follow the instructions below to see how to safely remove the smell of smoke from a leather interior.
To remove smoke smell from a leather interior, you will need a cleaner that's specially formulated for leather. Consult your owners manual or your dealership's service department to find out which leather cleaner will work best for your vehicle.
Once you have the leather cleaner for your car, use a microfiber cloth to gently clean each leather surface. You may have to do this multiple times to completely get the smell out, since smoke smell can settle in the surface of leather interiors.
What About The Rest of Your Car?
After you've cleaned your trim, carpet, and upholstery, make sure you take the time to clean the other surfaces in your car as well. Wipe down your windows, the front and back windshield, and be sure to replace your vehicle's air filter, since smoke can also get into the air vents. Cleaning as much of your car as you can ensures that the smoke smell will be completely eliminated, and your vehicle will smell like new!
Find Your Perfect Vehicle at Jack Powell Chrysler Dodge Jeep Ram
Now that you know how to get smoke smell out of a car, come to Jack Powell Chrysler Dodge Jeep Ram near Carlsbad and San Marcos to browse our service specials! Keeping your car properly maintained will ensure that it runs properly for years to come. Schedule service with us today and feel free to browse our parts department for additional accessories for your vehicle!
More from Jack Powell Chrysler Dodge Jeep Ram
Jeep has a truly wonderful SUV in the Wrangler, and the 2020 Jeep Wrangler's towing capacity is a perfect addition to an already great vehicle. How much can a Jeep Wrangler tow, though? With the 2,000 or 3,500 pounds of Jeep Wrangler towing capacity, you've got more than enough to get small items through San Diego…

RAM 1500 InventoryContact Us Escondido, San Diego workers know that if you want top-notch performance, you need a diesel engine. However, with all their power diesel engines do have drawbacks. For one they are loud, which may be fine if you strictly use your vehicle on the job site, but if you also use it as a…

Jeep Compass for SaleLearn More If you're a Escondido, San Diego driver who's looking for a dependable and versatile SUV to take on your next DIY project or to upgrade your San Diego commute, look no further than the 2020 Jeep Compass. With six available trim levels for drivers to choose from, you can play it safe with…