Ram 2500 Towing Capacity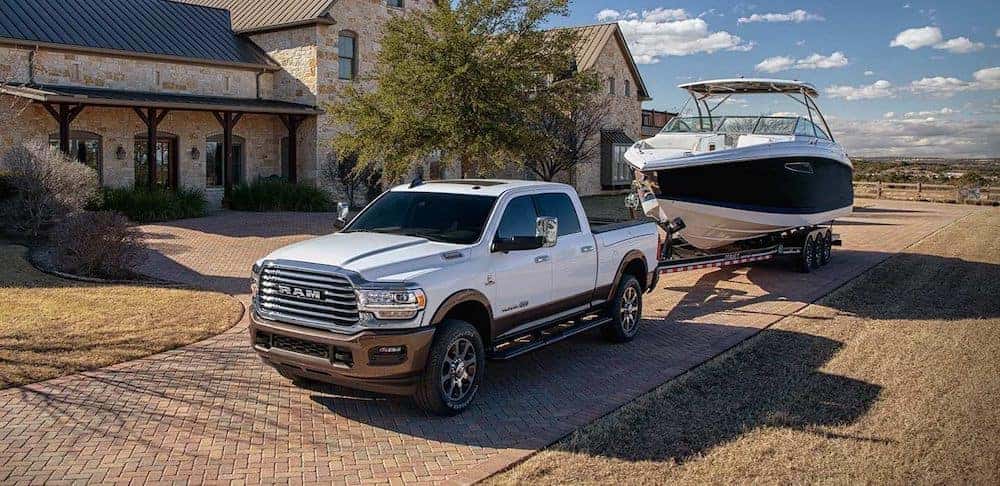 Very few pickup trucks on the market are as powerful as the 2019 Ram 2500, which is a work-ready vehicle that can take on just about any workload you throw its way. With the Ram 2500, towing and hauling equipment in the San Diego and Carlsbad area has never been easier. The 2019 model of the Ram 2500 can be equipped with two engines and can carry loads nearing 20,000 pounds. Find out below exactly how much the Ram 2500 can tow with the experts at Jack Powell Chrysler Dodge Jeep Ram.
Exactly How Much Can a Ram 2500 Tow?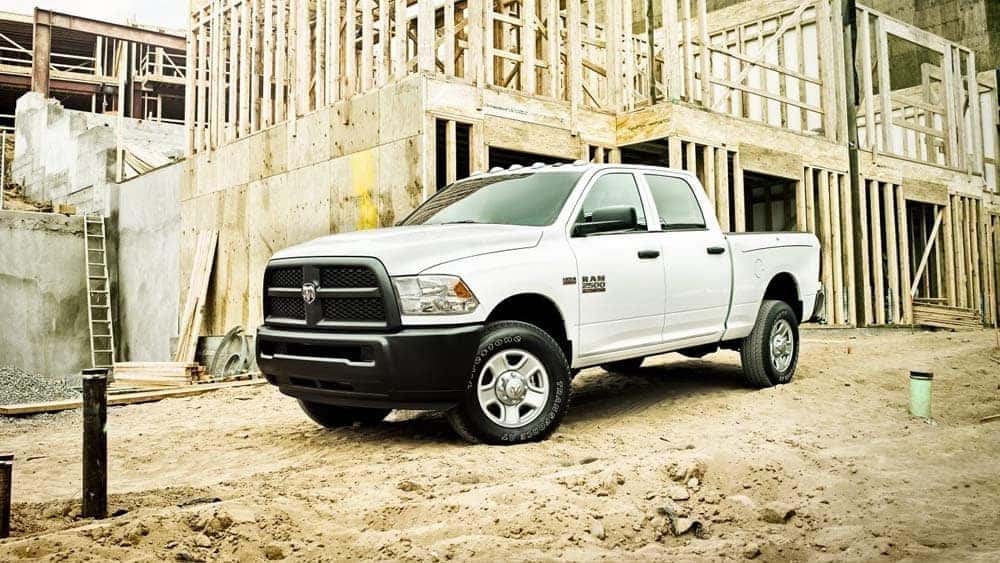 Like we stated above, the Ram 2500 can be outfitted with two powerful engines, each allowing for different maximum towing and payload capacities:
With the standard 6.4L HEMI® V8 engine, the Ram 2500 can get a maximumtowing capacity of 19,580 pounds, and can be properly equipped to sustain a 3,940-pound maximum payload capacity.
The Ram 2500 can also be upgraded to a 6.7L Cummins® Turbo Diesel I6 engine, which gives the RAM 2500 the Best-in-Class Diesel maximum towing capacity of 19,780 pounds, as well as a maximum payload capacity of 4,050 pounds.
RAM 2500 Engine Specs
Now that you know the towing capacities with each engine provided with the Ram 2500, let's discover just how powerful these engines are:
Standard Engine: The Ram 2500 comes standard with a 6.4L HEMI® V8 engine that delivers best-in-class class 410 hp and 429 lb-ft of torque.
Optional Diesel Engine: The secondary option for the Ram 2500 is the 6.7L Cummins® Turbo Diesel I6 engine capable of 370 hp and an astonishing 850 lb-ft of torque.
Jaw-Dropping Towing Features
When you opt to outfit your Ram 2500 with its optional diesel engine, you get a best-in-class truck for towing. The truck also comes with some amazing features in terms of towing, like the dynamic centerline display with hook-up assist, as well as the vehicle's auto-level rear air suspension, which you won't find with any other truck in its class. Elsewhere, the Ram 2500 can be equipped with an All-New Warn® Zeon-12 Winch, which highlights a synthetic line that doesn't link or fray, and supports a 12,000-pound rating. The Ram 2500 is customizable in many ways, all of which help to make your San Marcos towing jobs a breeze.
Find the Ram 2500 for Sale in Escondido, San Diego
Have we convinced you that the Ram 2500 is the right truck upgrade for you? Well, we're not surprised. With its remarkable towing capabilities, the Ram 2500 is one of the best trucks on the market, and you can find one at Jack Powell Chrysler Dodge Jeep Ram. So, browse our inventory and contact us if you have any questions. You can also schedule a test drive with the Ram 2500 today! For even more on Ram trucks, take a look at the reviews of the Ram 1500 or compare the Ram 3500 against the GMC Sierra 3500 or Ford F-350.
More About RAM 2500 Features
Contact Us Very few pickup trucks on the market are as powerful as the 2019 Ram 2500, which is a work-ready vehicle that can take on just about any workload you throw its way. With the Ram 2500, towing and hauling equipment in the San Diego and Carlsbad area has never been easier. The 2019 model…