Chrysler Dodge RAM Jeep: Mopar® Powertrains and Transmissions
Looking to improve upon your new Chrysler, Dodge, Jeep, Ram vehicle, or seeking powertrain or transmission parts to repair a used classic? Genuine OEM parts from Mopar® are a must, regardless of whether you're seeking a stock replacement for your transmission or are ready to upgrade to a HEMI® crate engine. Sticking with ®Mopar ensures compatibility and longevity, and will extend your vehicle's life far longer than aftermarket parts. And if you need advice for your DIY project, or a helping hand, the Jack Powell Chrysler Dodge Jeep Ram service center near Carlsbad is here for you!
Powertrains and Transmissions at Jack Powell Chrysler Dodge Jeep Ram
With one of the biggest parts departments in the country, Jack Powell Chrysler Dodge Jeep Ram can obtain the perfect parts for your Dodge or RAM. The original OEM parts sold and ordered by our parts department are built according to proprietary factory specifications, and have no aftermarket equals. Plus, Mopar® is confident enough in the parts coming off the assembly line to offer a 3-Year/100,000-Mile Powertrain Limited Warranty*. This warranty is transferable, deductible-free and backs engines**, cylinder heads, transmissions, and transfer cases. Genuine Mopar® Parts at Jack Powell Chrysler Dodge Jeep Ram, include: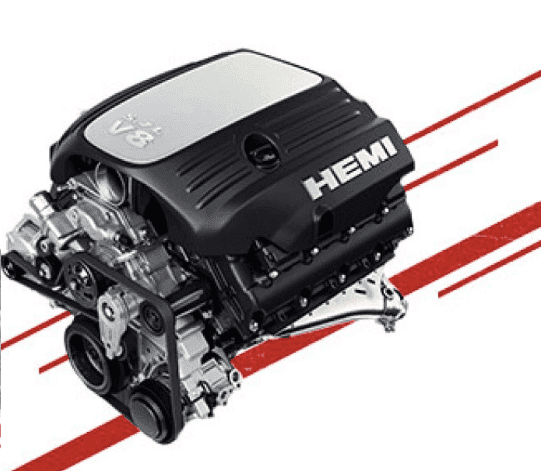 Dodge 3.7L V6 Engine
Dodge 4.7L V8 Engine
Dodge 5.7L V8 HEMI® Engine
Dodge 3.3L V6
Cummins 5.9L Diesel Engine
Cummins 6.7L Diesel Engine
426 Crate HEMI® Engine
Transmission, Transaxle, and Differential Kits
Automatic Transaxles
RWD Automatic Transmissions
Manual Transmissions/Transaxles
Heavy-Duty 48RE Transmissions
Torque Converters
And More!
Remanufactured Parts From Mopar®
Remanufactured parts from Mopar® aren't just rebuilt salvage, they are reborn to be like new. Take the 5.9L and 6.7L Cummins reman engines, for example, which are rebuilt on Cummins® Recon Assembly lines that mirror new production, equipping the reman engines with advanced technology. With state-of-the-art factories, the highest certified standards, and thousands of happy customers, these are parts you can trust. Mopar Reman Advantage parts are purely OEM car parts, as the process ensures no aftermarket parts are used in the remanufacturing process. From the exhaust manifold to turbochargers, everything is genuinely Chrysler, Dodge, Jeep, Ram. How are remanufactured parts made? Whether you're looking at reclaimed and recycled ATK Jeep engines or LKQ Dodge engines, every part of a reman engine is disassembled and then cleaned with nonabrasive methods. Only the parts that will meet Chrysler, Dodge, Jeep, Ram expectations of premium performance are used in the manufacturing process—inadequate pieces are replaced with brand new Genuine Mopar® parts. After assembly, Mopar® requires remanufactured engines to pass 625 hours of continuous testing to be considered performance-ready. Bring ol' faithful back to Vista roads with remanufactured Mopar® Chrysler, Dodge, Jeep, Ram parts.
Talk Parts with Jack Powell Chrysler Dodge Jeep Ram
The world of genuine parts and accessories for your Dodge Challenger or Jeep Wrangler is wild and expansive. Feel free to reach out to the Jack Powell Chrysler Dodge Jeep Ram service or parts centers, we're always happy to hear from local San Marcos and Valley Center area residents! You can even schedule service online, or if you're in the market for a new or used vehicle in Escondido, San Diego, schedule a test drive!
Disclaimer:
*See your dealer for complete details and a copy of the 3-Year/100,000-Mile Powertrain Limited Warranty.
**Excludes Cummins.